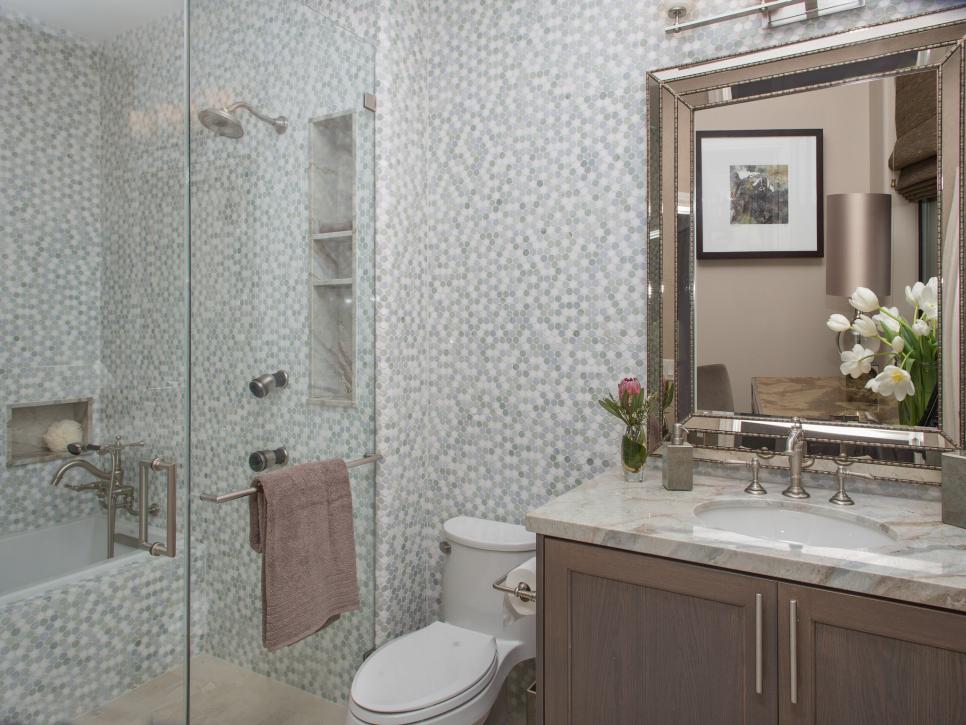 Install a New Sink Faucet
As with installing new hardware on cabinets, installing a new sink faucet is one trick designers and do-it-yourselfers alike use to make a sink sparkle without replacing the entire top or vanity.
Install a Pre-Fabricated Shower
The most expensive option for a new shower is to hire a pro to build a custom tile shower from scratch. While site-built tile showers and tubs can be gorgeous and unique, consider a pre-fabricated shower unit, which typically costs a lot less. If you absolutely must have that tiled shower, fusing a poly shower pan with the tile saves some hassle and some cost.
Install Your Own Toilet
Plumbers are worth their weight in gold. But if you have the strength to carry a toilet, avoid calling in a plumber to switch out the old toilet. Instead, install your toilet by yourself. Toilet installation involves very few waterline hookups. The hardest part of installing a toilet is physically moving the toilet into place. For that, buy an inexpensive hand truck or enlist the services of a friend.
Paint Portions of the Interior by Yourself
Interior painting can be accomplished by even the least skilled do-it-yourselfer. For whole-house painting, you may want to consider hiring a professional painter, due to the large scale. But consider how little painting you need to do in bathrooms. The majority of wall space is taken up with mirrors, showers, tile, cabinets, and bathtubs. In the end, you only have a few square feet to paint. In many cases, you can paint this by yourself in a day or two.
Resist the Urge to Move Major Plumbing
Save money by leaving the toilet and bathing facilities where they are. There's no need to move the plumbing when their current locations satisfy your needs. Moving water supply and/or drainage immediately drives up the cost of any remodel project.